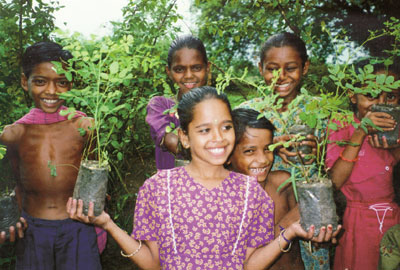 The ancient traditional medicine of India called ayurveda says the leaves of the Moringa tree prevent 300 diseases. Modern science is confirming that these leaves could help prevent untold suffering and death caused by malnutrition and related diseases.
Moringa leaves are indeed highly nutritious. They contain two times the protein of yogurt, three times the potassium of bananas, four times the calcium of milk, four times the vitamin A of carrots, and seven times the vitamin C of oranges. And these leaves can be easily grown right at people's doorsteps.
On top of this, the Moringa tree grows best in tropical areas of the world -- the exact places where people need it most.
Trees for Life is helping spread awareness of Moringa's benefits, providing critical information to enable villagers worldwide to immediately grow their own Moringa trees. We are providing a tool to give a hand up, rather than a hand out. Studies are already being done on the various medical uses of Moringa leaves by the scientific community.
Your gift for Moringa education helps people lead healthier, happier lives.
___________________________________________________________________________________________
Trees for Life International has worked in more than 20 countries around the world. This catalog contains gift items that symbolically represent our work. The purchase of each gift item is a contribution toward Trees for Life's many programs, not a donation to a specific project or goal. Your donation will be used where it is needed the most--to help people living in poverty throughout the world.