Orissa, India
I want to share with you the feeling of miracles we all are experiencing here.
I want to share with you the feeling of miracles we all are experiencing here.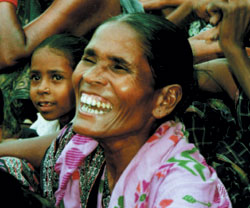 It was not long ago when Balbir Mathur came here and suggested that the lepers can be helped to become self-sufficient. All of us who had worked with the lepers for such a long time were skeptical about this ever taking place. One of our people even vowed that he would shave his head if these lepers ever stopped begging and started working!
With the greatest humility and awe, I would like to share what is taking place.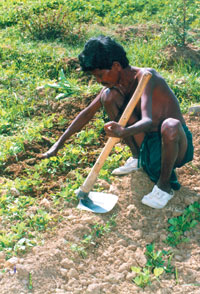 Determined to help themselves, lepers who have lost fingers or toes overcome great barriers in even simple tasks like tending their vegetable gardens.
At Ruhunia leper colony, where the land was totally useless just a few years ago, there are now hundreds of healthy lemon trees. Since these trees are still small, the lepers are planting crops around them. The land is now lush with vegetables. The lepers are so encouraged that they are getting ready to also plant two more acres in rice. They no longer need to beg for their daily food. This is mainly thanks to Balbir's foresight.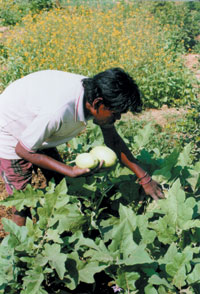 I am getting the rest of the land measured and hope to start cultivation next month.
At Jamurda leper colony, the first well is yielding sufficient water for a hand-pump. The hand-pump well provides enough clean water for people to drink. They have not had enough water since the colony started many years ago. We are planning to drill another well for irrigation also. Once we get enough water we will be able to start farming.
In times past we had to coax the lepers to do things. Today they are so inspired that I do not have to even request them to work. A small miracle has taken place!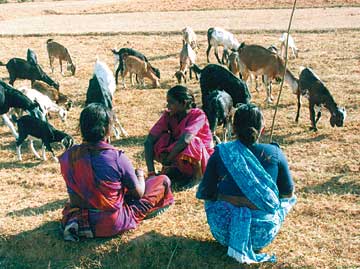 Keeping watch: Women from the leper colony now tend their own herd of goats, one of several new self-help efforts started on their own initiative.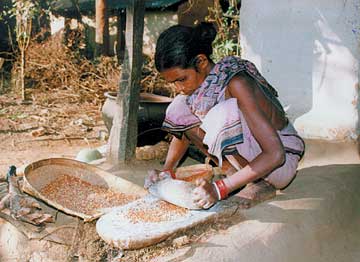 Daily bread: In providing food for their families and helping others, the lepers have brought a new sense of dignity to life in the colony.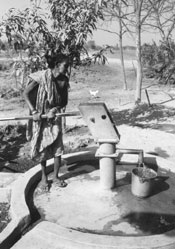 Waters of life: After years of not having enough water, the lepers acquired wells that provide ample water for drinking and for irrigating their crops.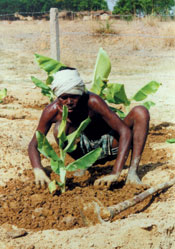 Hands-on empowerment: For lepers who once had to beg for a living, the simple act of growing fruit trees, like these bananas, has awakened their ability to become self-sufficient.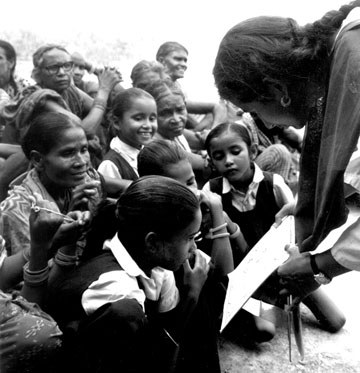 Education means hope for children of lepers, who have traditionally not been allowed in schools. A few of the children are now starting school, determined to gain an education and the opportunities it brings.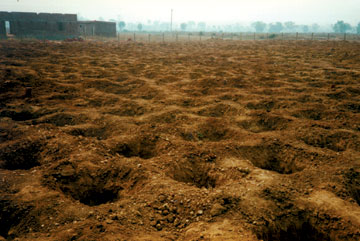 Before: Barren land at the leper colony was like hard clay covered with gravel. Here the lepers hand-dug 1,470 pits for planting fruit trees.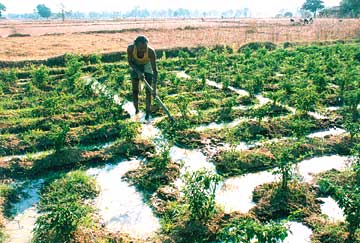 After: Lush green of thriving fruit tree saplings and vegetables.