Allahabad, India
When a few committed people
join their minds as one,
miracles take place.
People often think Trees for Life is about trees . . . but it is really about Life.
Or, may I dare say, it is about miracles.
Consider the example of a school in Allahabad, India. This school educates children from families who live on less than one dollar a day. Such poverty brings malnutrition and untreated illness. Imagine the pain of a mother who cannot afford medical care for her suffering child.
People at this school dared to dream of a medical lab for early detection of illness. But it seemed impossible. How would they fund it? Where would they find a doctor and staff?
But the will to serve was strong. Soon, a husband-wife team of doctors from New Delhi donated equipment and trained the staff. Trees for Life volunteers from the U.S. took up the cause. Sisters Adorers of the Blood of Christ provided a challenge grant. People with caring hearts matched this grant. Additional equipment and supplies started to arrive.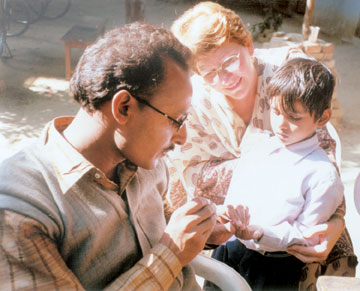 "Seeing thousands of people receive vitally-needed health care has deeply touched my heart." - Kathy Miller, Trees for Life Volunteer
In the first year, the lab conducted more than 20,000 tests. Students, their families, and people in surrounding villages were tested for anemia, parasites, pregnancy complications, eye diseases, and other ailments. Testing for tuberculosis and HIV/AIDS is planned, as well as training of health care workers to reach out to many others.
Today, the Sushila Healthcare, Diagnostic and Research Center is a powerful demonstration of how the spirit manifests when people of goodwill join helping hands across the nations.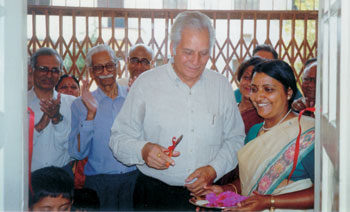 Rejoicing! The vision comes alive as the lab is inaugurated. "For years I worked side-by-side with my husband, who was a wonderful physician. After he was murdered, I struggled for several years to find any meaning in life. I felt dead inside. Sharing in this work has renewed my spirit and reconnected me in a special way to him and to the work I love." - Mrs. Savita Goel, Lab Administrator (above, right)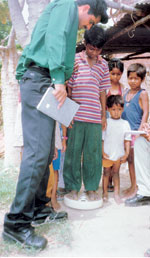 "It's amazing how many people volunteered their energies to create this pathology lab in only a few months. Exactly the right people showed up at the right time." - Madhu Gupta, M.D., Pathologist in New Delhi, India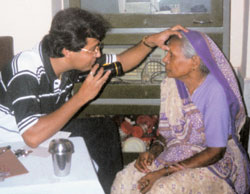 "This medical lab is a God-send for people in Allahabad and the surrounding villages." - Mr. Ram Sahay, Former Vice-Chancellor of Allahabad University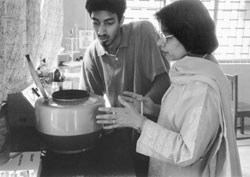 Meticulous attention is given to setting up laboratory equipment by Prashant Malhotra and Madhu Gupta, M.D.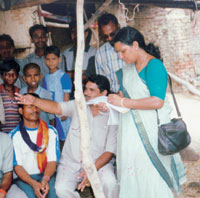 Over 20,000 tests were conducted within the first ten months to detect health problems for poverty-level children and adults.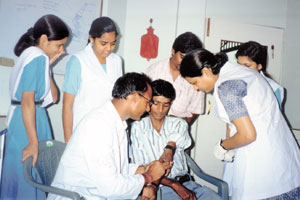 Training health workers will widen the benefits to other needy communities.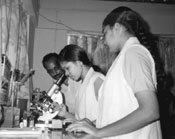 "This training offers my students hope of escaping grinding poverty." - Mrs. Usha Sharma, Principal
"This model has the potential to change the way health care is delivered to those in need."
- Rakesh Mishra, M.D., Allahabad Pathologist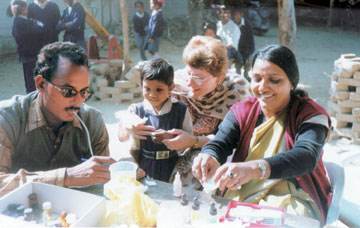 "Using my God-given skills to help save lives is both rewarding and humbling." - Mr. S.P. Pal, Lab Technologist