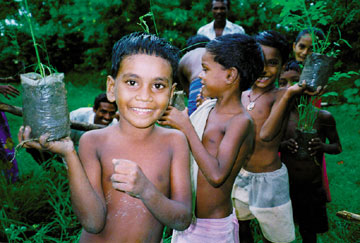 With handfuls of hope children in Orissa, India distribute tree seedlings to families in their village. They are joining with people in nearby villages to combat the suffering they have endured for many years due to vitamin A deficiency.
Dear Friends,
The roots of a tree never see the fruits that spring from the branches.
Like life-giving roots, thousands of people around the world have helped Trees for Life grow into a very fruitful movement. Yet these people cannot see the fruits of their efforts.
How does one convey the fruits of love? How does one convey the joy of people who are learning to help themselves? How does one describe the joy of hope? Words fail us. So, we will share one example ? in pictures.
In this newsletter, you will see how more than 40,000 villagers in India joined hands to combat the suffering and death caused by vitamin A deficiency.
These villagers planted "miracle trees" that will provide their families with life-saving nourishment. And the impact will continue for generations to come.
Such are the fruits of love.
Balbir S. Mathur
President
The Miracle of Drumstick Leaves
Ounce for ounce, drumstick leaves contain:
| | | | |
| --- | --- | --- | --- |
| | | | |
| 4 times as much vitamin A as carrots, to shield against disease. | | | 4 times as much calcium as milk, for strong bones and teeth. |
| | | | |
| 3 times as much potassium as bananas, for healthy brain and nerves. | | | 7 times as much vitamin C as oranges, to help fight illness. |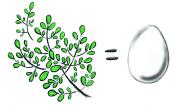 Nearly equal protein to eggs, to build muscles.
Vitamin A deficiency is a killer. It is a leading cause of childhood death in developing countries of the world.
Normally, vitamin A acts as a shield against disease. But malnourished people who lack this vitamin are left defenseless. They easily fall victim to a host of common illnesses, as well as measles, cataracts, and diseases of the skin and eyes. Each year, more than 500,000 children go blind and millions die because of vitamin A deficiency.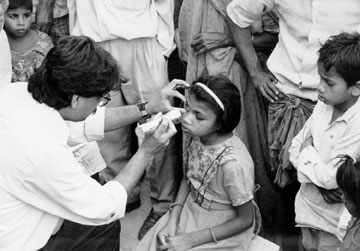 Highlighting the ravaging effects of vitamin A deficiency, a doctor examines a girl who is going blind. Extremely poor and malnourished, many people in Orissa, India suffer from lack of vitamin A.
Fortunately, in most developing countries there grows the drumstick tree, whose leaves contain four times as much vitamin A as carrots.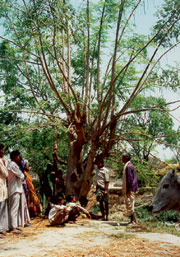 The drumstick tree (Moringa oleifera), named for its long bean-like fruit, produces fruit and leaves for more than nine months of the year. It grows rapidly even in poor soils, does not need artificial fertilizers or pesticides, and requires very little space to thrive.
While science sings the praises of drumstick tree leaves, knowledge of their life-saving health benefits has The drumstick tree not reached the very poor people who need it most.
Thus, the challenge for Trees for Life was clear: how can we share this knowledge with people in developing countries so a movement of self-help can be created?
The Trees for Life Response

Trees for Life responded to this challenge, making a commitment to work in one of the poorest areas of India ? the rural villages of Orissa.
With support from people around the world, Trees for Life volunteers and local villagers created a campaign in twenty villages of western Orissa.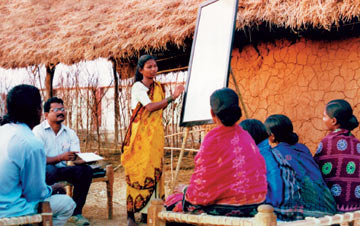 Participating in focus groups, the villagers themselves help design the campaign.
Through much discussion and field-testing, activities were developed for school students, youth, women, and the entire village.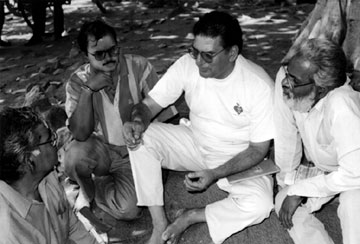 Trees for Life President Balbir Mathur discusses campaign strategy with local leaders in Orissa, India.
The campaign began with an explosion of enthusiasm from the village school students. They learned about drumstick leaves in school, then pledged to spread the message and to help at least two other people plant drumstick trees.
The women took great interest in the value of drumstick leaves, since they decide what to cook in their homes.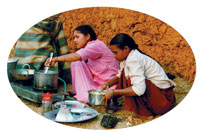 Concerned about the health of their families, they were often surprised with the high nutritional value of the leaves.
The village youth were eager to learn leadership skills and serve their communities. They helped organize and plan the campaign activities, worked with school students tending drumstick tree nurseries, and learned how to effectively share the message with groups of villagers.
Uniting in celebration, everyone in the village comes together for a day-long festival focused on sharing the message of drumstick leaves.
As one village elder put it, "The seeds we are planting will bear lots of fruits - in more than one way." In this campaign, thousand of villagers learned the life-saving value of drumstick leaves and planted drumstick trees. Their example of self-help inspired many other people who want to start similar projects.
This campaign showed how small amounts of help from caring hearts can make a major difference in the lives of people who are helping themselves.
Trees for Life is now developing educational materials about drumstick leaves for villages across India and around the world who want to start their own campaigns.
Educational materials such as these will enable people in many more villages to share the secret of drumstick leaves with their communities.