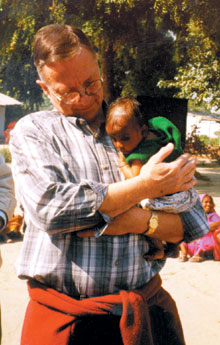 "When you hold a child, it touches you deeply," volunteer Ken Holmessays. "There are immediate needs, but you also must consider thefuture. At Trees for Life projects we saw people learning to helpthemselves. That's important for the long run."

When we arrived, the village was a beehive of activity. Hundreds of people crowded around the makeshift eye clinic ? mothers gently holding their children, and lines of elderly people ? all seeking relief from eye problems. Dedicated volunteers and doctors moved about helping and caring.
Nearby under a pavilion I saw volunteers carefully preparing beds of straw on which patients could rest and sleep after surgery. The busy doctors told us that five surgeons would perform 400 eye operations that weekend.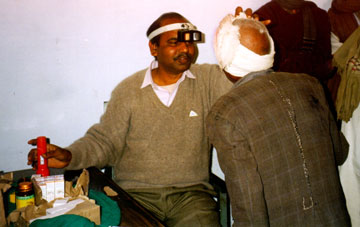 Restoring sight, five volunteer surgeons at this makeshift eye clinic will perform more than 400 cataract operations in one weekend. Trees for Life joined hands with several service groups, doctors and local volunteers to hold the clinic.
We had come to this village with Geeta Chopra, director of Trees for Life in Allahabad. She said that several service groups had collaborated to hold an eye clinic in this village. People had come from several villages for cataract operations. And we could help.

Geeta showed us some packets of drumstick tree seeds. She explained that this tree, which is native in India, produces edible leaves which are loaded with vital nutrients lacking in the diets of most villagers.

The leaves not only contain several times more vitamin A than carrots, which helps prevent eye problems, but they also have high amounts of calcium, potassium, and amino acids. But this information has not yet reached people in rural India.

Then Geeta explained our mission. We were to distribute a small packet of seeds and information about the drumstick tree to the patients' families. Geeta mounted a platform and spoke to the families in their native language, Hindi.

Even though we could not understand the language, all of us could feel the charisma and compassion Geeta radiated. Even from a distance people started to move towards her. The scene reminded me of Jesus in Galilee.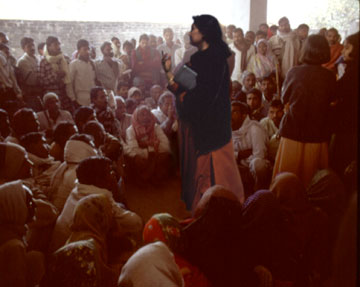 Geeta Chopra, Trees for Life director in Allahabad, tells eye clinic patients about the drumstick tree, whose edible leaves provide vitamin A to help prevent eye diseases. Each family then gets seeds to grow their own drumstick tree, and to share with others.
After her speech we distributed the seed packets. People swarmed around us, eager to get these miraculous seeds. As their trees grow, perhaps these people will remember their guests who had come such a long way to share the seeds.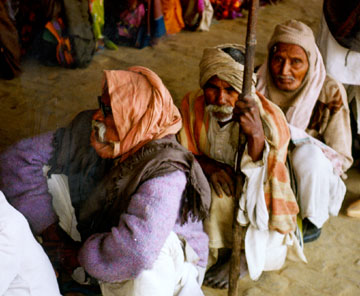 But what I will remember is the dedication of those eye surgeons, offering free surgery to the villagers. I will remember the power radiating from Geeta's message. And I will remember how Trees for Life helps people to help themselves.

It was an experience of many blessings.