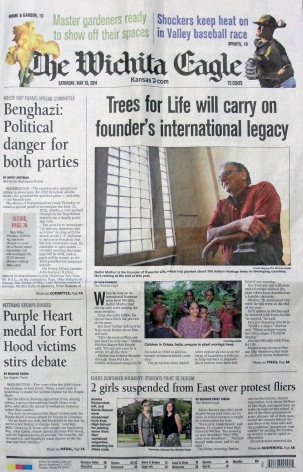 Dear friend,
After 30 years as founder and president of Trees for Life, Balbir Mathur has announced he will retire on December 10 this year, his 79th birthday. In response to the news, The Wichita Eagle printed a front-page feature article about the work of Balbir and Trees for Life—past, present and future. That article is at the link below.
Certainly, in the hearts of many of us, Balbir and Trees for Life are inseparable. They always will be. But, as he himself has stated, "the timing couldn't be more perfect" for him to step back and allow someone else to lead Trees for Life in its next phase of serving our world.
That next phase will include the launch of an effort to help teachers teach in the world's poorest countries, via the internet. After years of research and testing, that program to help educate the poor is very near completion. As Balbir has said, it is time now to pass the reins to younger leadership with a better understanding of the new modes of communication.
Meanwhile, our team will continue serving people around the world with dedication to the vision of Trees for Life just as we always have, and we look forward to our shared friendship and love as we continue this journey together.
Trees for Life…people empowering people!

Read the article
from The Wichita Eagle:
"Trees for Life will carry on
founder's international legacy"

TV news story



Balbir's coming
retirement was also
featured on KAKE
News in Kansas.