Mark Olson is the rare combination of an individual who is both a great scientific intellect and an example of the type of human spirit that inspires and uplifts all who know him.
Mark's work as a plant biologist and researcher has given him near-celebrity status in the worldwide moringa community. While it is his work as a scientist that brought us into contact with each other, it is the compassion, enthusiasm, warmth and humility that he demonstrates in his daily life that I have come to admire most.
At Trees for Life, we are dedicated to empowering people who serve others. Mark is one of those people. We feel honored to join hands with him and to share this story with you.
— Balbir Mathur
Mark Olson, PhD
Agua Caliente, Mexico
Mark runs the Olson Lab at the Institute of Biology, National Autonomous University of Mexico, where his team studies plant evolution in the dry tropics.
---
While walking home to my apartment in Mexico City after a long day at work, I heard a small voice say, "Open dis for me?"
I looked down at the lumpy, battered sidewalk to see a four-year-old boy selling gum and candy from a little wooden tray. He held a can of soft drink, but his hands were too small to open it.
As I reached down to help him, I looked around for his parents but didn't see anyone. Just this little guy, who spent his days not in school but breathing street-side exhaust, eating badly, and at the mercy of passersby for help or, God forbid, harm.
It is an all-too-common scene in our world. This little boy was just one example of more than a billion people living in poverty. I want to share the story of how my concern for the suffering of children like him brought me in touch with the Trees for Life family and what followed as a result.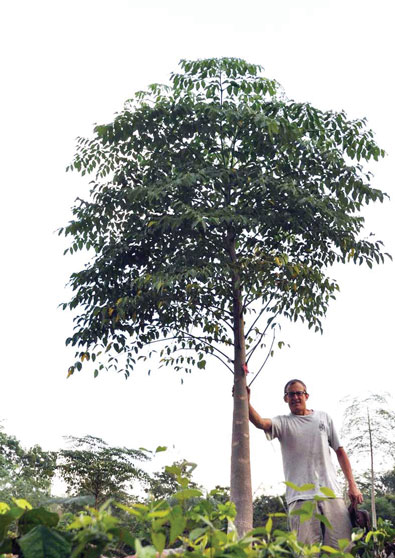 In search of a home
Since childhood, I have been in love with the natural world. I became a plant biologist, and through my work I came to know about a tree called moringa. This tree has great potential to remedy the suffering of hungry people worldwide.
Not only is moringa extremely nutritious, but it also seems to have powerful medicinal properties. These traits, along with its ability to thrive in harsh tropical climates where food and medicine are often in short supply, have earned it the name "Miracle Tree."
However, there are still many things we don't know about moringa, and these gaps affect how well we can use it. We need more research to find out which varieties have the greatest nutrition or the most potent medicinal properties.
My PhD research at Washington University in Missouri focused on this tree. I travelled to moringa habitats around the globe and collected different varieties in the wild, bringing them back to the U.S. to study. After graduation, I came to work at a university in Mexico and wanted to place my moringa collection at a botanical garden in the U.S. where it would be cared for and available for scientific research.
There were many interested gardens, but none were willing to abide by the stipulations of the countries of origin. Many of these plants were collected with the understanding that the material would be used only for non-commercial purposes. Any entry into for-profit, non-research uses was prohibited. The botanical gardens were unwilling to sign an agreement to this effect.
While negotiations continued, the plants waited patiently for ten years in the research greenhouse at Washington University. I began to lose hope that I would ever fulfill the dream of helping drive the necessary research to maximize moringa's benefits for those who need it most.
One day, my good friend Dr. Jed Fahey, a Johns Hopkins expert on cancer-preventive agents from plants, suggested I contact Trees for Life. They were well aware of moringa, and had pioneered an international movement that inspired the planting of millions of these trees where hunger is prevalent.
I spoke with Balbir Mathur, president of Trees for Life, and explained the situation: my plants were in the U.S., I was in Mexico, and moringa research was stalled. Why not establish a Moringa botanical garden in Mexico? This would be a perfect solution. My university had a research station on the Pacific Coast of Mexico in ideal moringa country.
Balbir liked the idea and said that Trees for Life would provide the keystone funding I needed. Things began to move very quickly. I found an ideal site, shipped the plants to Mexico, and my moringa collection had a place to grow and thrive.
The first planting of rootstock and seedlings was in June 2014, and just one year later many of the trees are more than ten feet tall. The collection has grown to include hundreds of mature moringa plants from twelve of the thirteen species, which means there will be an abundance of seed, leaf, flower, and fruit material available for study.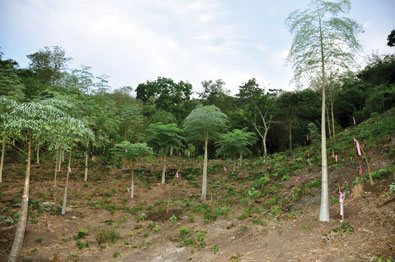 The path ahead
As the garden began to take shape, the question arose: where to start with research? With so many potential benefits to explore, we could go in many directions. Balbir provided the mandate: protein.
Trees for Life's work in the trenches in developing countries has shown that protein is a main nutritional priority. Finding out which variety of moringa has the best-quality and highest amount of protein would allow people to make the most of every cultivated square foot, every spoonful of moringa leaf a nursing mother or growing child eats.
Perhaps the most amazing part of this process was how quickly a scientific team came together to address this issue. Scientists from different continents joined hands, motivated by the conviction that no one should spend their childhood malnourished. These researchers are dedicated to transforming moringa from a plant with great promise to one with proof.
Through it all, I have been increasingly inspired by my connection with Trees for Life. It is comprised of a group of people who believe that we do not have to wait for a revolution or United Nations resolution to address poverty and hunger. They believe that we live in an interconnected world, and each of us can begin taking action now. Each step is precious, and each one counts. I share these convictions, so it has been amazing to discover this family of like-minded people.
As I handed the opened drink can back to the little boy on the sidewalk in Mexico City, he smiled up at me. The look in his eyes reminded me what it was really all about. By taking whatever steps I could and joining with others, I had discovered something that went beyond moringa or science. I had found hope.
---
Moringa saves lives, minds, and eyes, earning it the name "Miracle Tree"
Grows very fast in harsh, tropical drylands and bears leaves all year.
Protein content of leaves approximates powdered milk, at a fraction of the price.
Vitamin A levels make it a key tool in the global fight against childhood blindness.
Calcium levels are significant and, importantly, in a form that is usable by the body.
Anti-cancer: Helps protect against cancer with substances known as "mustard oils," and also has apparent antibiotic activity against the cancer-causing Helicobacter pylori prevalent in the tropics.
Anti-diabetic: Studies suggest that the leaves can help regulate glucose levels.
Seeds give an excellent edible oil, and the leftover "press cake" can be used to clean muddy river water and make it, with a few drops of bleach, clear and drinkable.
Nutritious fruits: Left to grow without pruning, it very quickly produces so many fruits that the branches bend under their weight.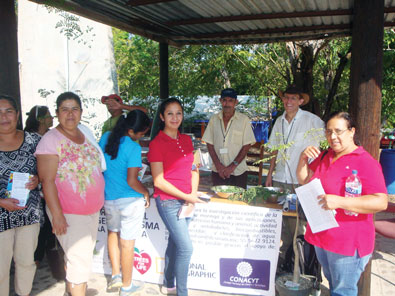 All of these benefits are often in short supply in poor communities in the dry tropics. As a result, easy-to-grow Moringa really is a miracle tree.