Lambert, Haiti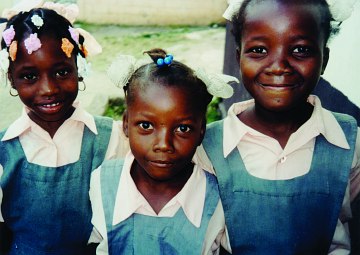 Joy and hope shine from the eyes of children in Lambert, Haiti. As people in their village spread the many benefits of the Moringa tree, hope for the future of all children in their area will continue to grow.
Sixteen years ago, a young man named Joslyn Philogen planted a tree in his village of Lambert, Haiti. He could not have guessed that this tree would someday become a rallying point for people in his village.
My husband, Phil, and I recently traveled to Haiti with a work team from Inter-Faith Ministries of Wichita, Kansas. One of our tasks for the week, as Trees for Life volunteers, was to find out whether the highly nutritious Moringa tree (Moringa oleifera) was growing in Lambert.
People's need for better nutrition was obvious. The five doctors in our work team treated nearly 900 children and adults suffering from malnutrition, skin infections, hypertension, parasites and a host of other ailments which plague people in Haiti, the third-hungriest country in the world. In fact, malnutrition claimed the life of an 11-month-old child while we were there, despite the doctors' best efforts.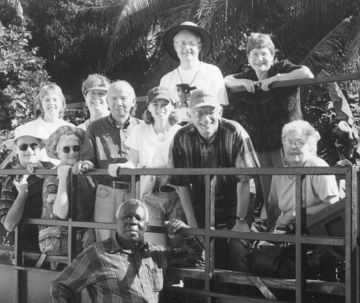 Reaching out: A team of five doctors and other volunteers from Wichita, Kansas traveled to Haiti to serve people in Lambert, a community led by Rev. Dantus Louis (in front).
When we asked Rev. Dantus Louis, a selfless community leader, if there were Moringa trees in Lambert, he seemed doubtful. But when we arrived at the village school, Rev. Dantus went to a gangly, overgrown tree at the edge of the property and returned with some leaves. We immediately recognized them as Moringa - known as Benzolive in Haiti!
We started asking local people, especially women, what they knew about the Moringa tree. Some said they made tea from the flowers to treat colds, or occasionally added the leaves to soup or rice. But when we asked if they knew that the leaves fight malnutrition and disease, their eyes lit up with surprise!
Soon the whole community was springing into action.
Some men took 60 cuttings from the Moringa tree to plant around the land where the community dreams of building a larger church. One woman took charge of watering the trees. As incredibly fast-growing tropical trees, these Moringas can provide leaves, seeds and cuttings to the 1,000 families in Lambert in less than a year.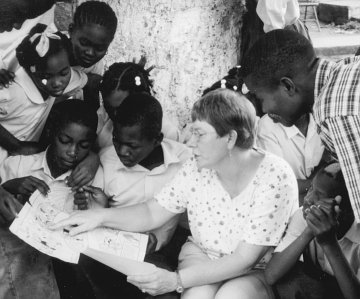 A group of school students were excited to learn the nutritional content of Moringa leaves: 4 times the vitamin A in carrots, 4 times the calcium in milk, 3 times the potassium of bananas, 7 times the vitamin C in oranges and 2 times the protein in milk. These students created a story and illustrations for a poster that will spread the news of Moringa leaves throughout their community and beyond.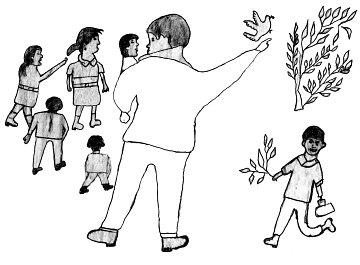 The local clinic nurse also learned about the leaves, in order to share the knowledge with villagers suffering from malnutrition and other illnesses.
The students also learned how to plant Moringa tree cuttings and promised to share what they had learned with their family and friends. And their teachers plan to coordinate a poster campaign and skits to further spread the message.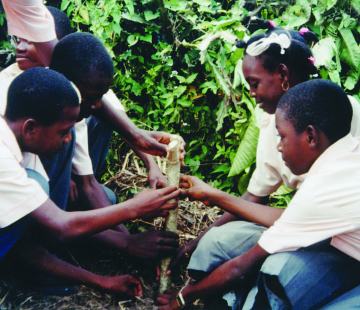 Many hands work together as schoolchildren plant Moringa tree cuttings. In less than a year, these trees can produce nutritious leaves and cuttings to plant more Moringa trees.
By the end of the week, the gangly Moringa tree had been transformed into a place of pilgrimage. Many people came to see the tree for themselves and learn how it could help their families. Two women who lived ten miles away were so excited about the potential benefits for their families that they asked for a cutting big enough to grow two trees at their homes.
On our last afternoon in Lambert, one more gift was to unfold. We met Joslyn Philogen ? the man who planted the Moringa tree 16 years ago! He was beaming like a proud father as he stood with the school children at this now sacred place.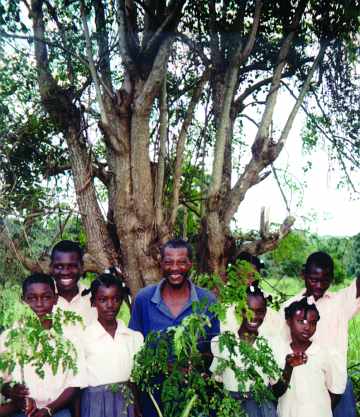 Unexpected ripples: Joslyn Philogen (center) planted the Moringa tree behind him 16 years ago, not realizing that it would someday bring new hope to his village.
Seeing Joslyn with the children made me reflect. His simple act of planting a seed had grown far beyond what he could have imagined. The Moringa tree could help save these children, and many others, from untold suffering in years to come. As these children and the rest of their community enthusiastically spread the word, they are planting a different kind of seed - the seed of hope. Indeed, perhaps the seed of a miracle.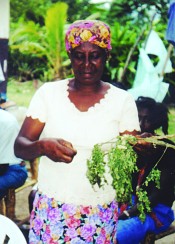 A mother's care gains a powerful tool as a local women's group learns how to use Moringa leaves to help their families.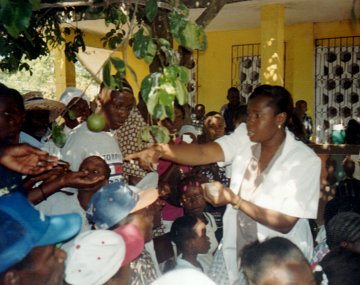 Healing knowledge is shared by the clinic nurse in Lambert. Now she plans to use Moringa to serve people suffering from malnutrition and disease.